The AGLD staff and crews take great pride in their work, through quality workmanship and an attention to detail. Another feature that sets us apart from our competition is our willingness to work with customers to achieve a landscape that reflects their personal aesthetic and lifestyle needs while taking into consideration the sites characteristics, architectural elements and financial concerns. Our sensible and honest approach to create cost efficient designs, takes into consideration both short and long term planning for phased installations and plant growth. We create timeless landscapes, with which our clients are pleased not only at completion but continue to enjoy for years.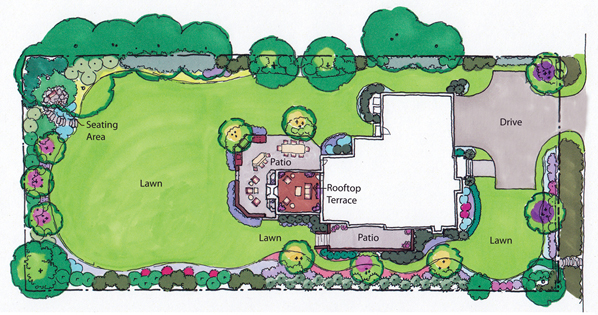 The Design Build Division works with homeowners to create timeless landscapes that their clients are pleased not only at completion but will enjoy for years to come. Our design team prides itself on the fact that our personal design aesthetics vary dramatically, providing a wider spectrum of design styles and a second opinion that's not just a nod. Unrestricted by any particular style, our designs are inspired by the site and influenced by our backgrounds in horticulture, garden design, historic preservation and landscape architecture; as well as practical hands on landscape experience; our designs create a seamless transition between the home and garden.

The Professional Services Division offers landscape services to other design and construction professionals and their clients, whether you are a builder in need of design build services or a landscape architect searching for a firm to install their design, our client care associates will assist you or your project team to coordinate the installation, source specialty plant materials and if needed assist with project phasing, to ensure that your project is a success.

Our experienced crews are capable of assisting you with your landscape installation needs, from excavation and grading too masonry and planting. Our customer care associates can assist you with the selection of site furnishings, garden accents, or seasonal décor to set your garden apart. After installation we offer lawn and landscape maintenance services to keep your property looking its best.
• Landscape architecture
• Garden design
• Conceptual site design
• Master plans
• Foundation plantings
• Perennial gardens and parterres
• Garden rooms & Outdoor living areas
• Vegetable and children's gardens
• Conservation & rain garden plantings
• Hedgerows and privacy screening
• Patios, terraces, walls, & walkways
• Pergolas, arbors, and fences,
• Pools, ponds, and fountains
• Tennis and sport courts
• Outdoor kitchens
• Seasonal and container plantings
• Permeable paver driveways & patios
• Bluestone patios, steps, terraces
• Stone walls & piers
• Concrete paver walks, patios & driveways
• Segmental retaining walls & piers
• Exterior lighting
• Furnishings and garden accents
• Outdoor and Garden Furniture
• Holiday decorations
• Party and event staging

• Full service residential and commercial maintenance
• Lawn renovation, seeding or sod
• Spring and fall cleanups
• Fertilizing, edging, and mulching
• Weekly mowing
• Bed and garden maintenance
• Pruning and weeding